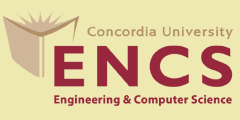 Quick links
Contact the Service Desk

Faculty, Staff, Students
Room: EV007.182
Phone ext.: 5713

Students, Staff
Room: H0964-00
Phone ext.: 4181

Service Desk

Printing

There are two approaches that enable you to print:

DPrint Service offered by the Concordia Digital Store

WHAT

- is DPrint?

DPrint (Concordia's new Xerox Printing System) is Cloud Printing, where the printing job is sent to a virtual print queue and then released on any DPrint printer in the network.

WHO

- can use DPrint?

Concordia Students, Faculty and Staff.
If you are currently a registered Concordia student with a Student ID card, a NetName and a password, and access to MyConcordia, you can use the new system. If you don't have a NetName, click here.
If you are not a Concordia student or staff member, you can still get a guest account which will let you photocopy (printing and scanning from guest accounts is not available at this time). Please visit the information desks at either the Webster or the Vanier libraries for more information.

WHERE

- can I find DPrint printers (also called

m

ulti

f

unction

d

evices, i.e.

MFD

) and the Cash Loaders?

HOW

- do I use this service?

To print from ENCS analyst-managed computers (for example, lab computers), you can look at the following instruction.

To print from ENCS user-managed, including laptops, Windows users have to print via browser and use the online campus printing service most commonly known as WebPrint.

To check/delete your print jobs sent to the DPrint cloud and view other DPrint actions, you can login to equitrac with your myconcordia credentials.

CHARGE

- happens upon the release of the print job.

As each student card is linked to an account, students need only swipe their Concordia ID card to use the DPrint printers. The charge rate and how to add funds to valid Student Concordia ID cards, can be found on the Self-Serve page. Your account balance is available at equitrac. Login with your myconcordia credentials.

ASSISTANCE

- offered by IITS> only (not by the AITS Service Desk).>

For students, staff members and Departments: All inquiries can be submitted using this Contact Form.

Any questions can be addressed by a phone call to extension 3476, or by email addressed to

dprint@concordia.ca

.

Service Calls are directed to 514-848-2424, ext. 7613.
The IITS Help line can always be contacted if you are in need of technical assistance.

SGW Service Area: H0925-00.
Loyola Service Area: CC-207.

DPrint FAQs

for the Public Network can be accessed via this link.

Printing using ENCS Quota

WHO

- is issued ENCS printing quota?

WHERE

- can I print using ENCS printing quota?

Departmental printers are available. These include color printers. Only faculty and staff can print to AITS-managed color printers.

HOW

- can I install a printer driver which will connect me to the proper Print Server?

If you are using an ENCS-Managed Desktop, the Departmental printers should already be installed on your computer. For any addition to the list, please send a request to servicedesk@encs.concordia.ca.
If you print from a user-managed computer which is NOT SHARED> or from a laptop running Windows>, you must add an ENCS printer using the instructions on How to add a SAMBA Printer>.
If you print from a shared user-managed computer> (the type usually found in the Research Labs) running Windows, you need to ask the owner of the system (usually a professor) to send us a request to set-up LPR printing for your computer. You will need to add an LPR Printing Port>.
If you print from a user-managed computer running Linux>, follow the instructions below:
If you print from a computer running MAC OS>, the instructions for setting-up a printer follow:
These are the differences between SAMBA printing and LPR Printing.

CHARGE

- how can I find out the number of pages I have printed and how many remain?

A page count is kept for each individual user.

ASSISTANCE

- how do I know if the printer is supported by ENCS and who do I contact?

Please look at the last column of each table displayed on the ENCS Printers for Faculty and Staff Members webpage. It is entitled ENCS>. Each cell containing a Yes> is associated to an AITS-managed printer. For assistance, you may contact our Service Desk.
To cancel your print job, please contact the ENCS Service Desk Staff in Room H0964-00 or EV007.182. Do not reboot the printer or cancel the job from the printer panel.

Printing using a Plotter

WHO

- is allowed to use an ENCS plotter?

With a valid ENCS account, you can print to an ENCS plotter.

WHERE

are the plotters located?

HOW

- do I gain access to an ENCS plotter?

When sending a job to the plotter, we suggest you send the file in PDF format.
Software:

Linux Standard Applications

CHARGE

- how much does it cost and how do I pay?

The first time an ENCS student, Faculty member or Staff, sends a job to a plotter, a plotting quota of 25 pages is allocated to that user.

ASSISTANCE

- who can help me print a poster?

Part-timers are on duty in room H0964-00 at the time of your reservation. They can be consulted if you have difficulty setting up your page for the plotter and if there is a problem with your printout.