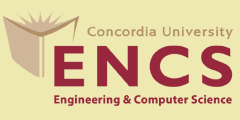 Quick links
Contact the Service Desk

Faculty, Staff, Students
Room: EV007.182
Phone ext.: 5713

Students, Staff
Room: H0964-00
Phone ext.: 4181

Service Desk

Migration Guide

Enable your Concordia Account:

To activate your @concordia.ca "mail account", you are encouraged to send a request to servicedesk@encs.concordia.ca. Please include the following information:

Full name (Last name, First name)
Netname
ENCS username
Phone extension
Office location
Department
Titlle

Activate your Concordia Account:

Once you have received a response informing you that you are eligible for a Concordia email address which follows the format firstname.lastname@concordia.ca, using Internet Explorer, access the MYCONCORDIA portal and logon with your NetName and Password.
Under the "MyConcordia Menu" on the left, select "Personal Services", and then "Concordia Email". You may now agree with the email address that is offered to you or submit an alternate one. Your email address of the form firstname.lastname@concordia.ca is forwarded to an Exchange mailbox netname@algol.concordia.ca.

You can now access your new mailbox by loging into https://owa.concordia.ca with your myconcordia portal netname and password. It may be a good idea to add this link to your bookmarks. Do note that you may need to wait a few minutes for IITS's automated systems to enable their mail relay to recognize your address (when tested immediately, the mail bounces with "user unknown").

You will want to configure certain settings. To do so, select the "Options" pulldown menu located in the upper right-hand corner.

Under "See All Options..." followed by "Settings", you will be offered the possibility to construct your "E-Mail Signature". This is an important step as your signature is attached to each email messages sent using the Outlook Web App interface.

Set up your Email Client Application (Optional):

Concordia is using the Microsoft Exchange platform for employee email. The information about this IITS service is available from: http://www.concordia.ca/it/services/faculty-staff-email.html
NOTE: If you are using Outlook on a ENCS computer, please follow the instruction for Users NOT on the Concordia domain.

Mail Forwarding (Optional):

For instructions on how to forward your alcor mail to your algol account (new Concordia Email Server), please contact IITS.
To forward your ENCS mail to your algol account (new Concordia Email Server), the simplest way to perform this step is by using Webmail. Expand the MAIL folder located in the left pane. Select "→ Forwards". Next to "Set/install a forward to:", you should type in your netname@algol.concordia.ca address. If you wish to retain a copy of your incoming mail to your ENCS mailbox, check the box next to "Keep a copy in your local mailbox?" Click the Submit button.

If you intend to forward your @concordia.ca mail, i.e. your algol mail to your ENCS account, you can do it from the above-mentioned "Outlook Web App" like this:

Logon to https://owa.concordia.ca.
In the upper right-hand corner "Options" pulldown menu, select "Create an Inbox rule".

Under "New", select "Create a new rule for arriving messages".

First selection box "When the message arrives, and:"

"[Apply to all messages]"

Second selection box "Do the following:", "Redirect the message to..."

A new window will pop up; you can ignore the whole top of the page (search), and at the bottom, under "Message recipients:" next to "To->", fill in the address to forward to, and click "OK".

Expand "More Options..." and de-select "Stop processing more rules" if you intend to then delete the message in a subsequent rule.
Select "Save".
If you want a copy to be left at IITS (algol), stop now.

Moving Emails or Not (Optional):

If you have now performed the set-up to receive your mail at algol, you can choose to keep your ENCS mailboxes or ENCS mail folders with your ENCS account by simply using a mail client that can be configured to access an existing mail account. Such supported desktop email clients include Outlook 2010 (Windows), Outlook 2011 (Mac), Thunderbird, Mail (Mac).
If you wish to move the contents of existing ENCS mailboxes or ENCS mail folders, you can create new mailboxes or new mail folders under your netname@algol.concordia.ca account, select the email messages you wish to move from your ENCS account and choose "Move to" or "Copy to" the newly created mailbox or mail folder.

Need Help?

For assistance resetting the password associated with your netname, you can follow the instructions about "Forgot password" on the IITS "IT Services" webpage: http://www.concordia.ca/it/services/netname-account-management.html
As always, AITS will provide support to ENCS Faculty members and Staff. Please contact us by sending email to servicedesk@encs.concordia.ca, by visiting our Service point located in EV007.182 or by calling us at extension 5713.